Contact Report 096
IMPORTANT NOTE
This is an unofficial and unauthorised translation of a FIGU publication.
Introduction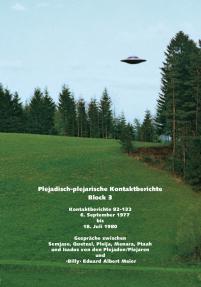 Page number(s): Pages 71-75 (Sechsundneunzigster Kontakt)
Date/time of contact: 21st December, 1977, 19:53 PM
Translator(s): Charles Rateike
Date of original translation: September 2019
Corrections and improvements made: N/A
Contact person: Isados
Synopsis
Isados visits Billy to tell him about the actions taken to treat Semjase's injury.
This is the entire contact. This is a preliminary translation of the contact.

Contact Report 96 Translation
| | |
| --- | --- |
| English | German |
| Ninety-sixth Contact | Sechsundneunzigster Kontakt |
| Wednesday, 21st December 1977, 19:53 Hours | Mittwoch, 21. Dezember 1977, 19.53 Uhr |
| Billy | Billy |
| It's unbelievable: Finally someone comes to inform us about the state of affairs around Semjase. I just don't think that's very nice, because Quetzal promised me first of all that he would inform us immediately about any change in Semjase's condition. However, he did not keep this promise, which I feel is a breach of confidence. If you make a promise, then it should be kept under all circumstances. I can't help thinking that people deliberately did not come here and did not inform me. I also don't think it's very nice that someone I don't even know is standing in front of me. Even if a message of bad news has to be delivered, it would probably be better if someone I know stopped by. | Es ist nicht zu fassen: Endlich kommt jemand, um uns über den Stand der Dinge um Semjase zu informieren. Ich finde das nicht gerade sehr schön, denn Quetzal hat mir erstens versprochen, dass er uns sofort über jegliche Änderung von Semjase's Befinden unterrichtet. Dieses Versprechen jedoch hat er nicht eingehalten, was ich als einen Vertrauensbruch empfinde. Wenn man schon ein Versprechen abgibt, dann sollte ein solches auch eingehalten werden, und zwar unter allen Umständen. Nachgerade drängt sich mir der Gedanke auf, dass man ganz bewusst nicht hergekommen ist und mich nicht informierte. Auch finde ich es nicht gerade sehr nett, dass mir nun jemand gegenübersteht, den ich überhaupt nicht kenne. Auch wenn eine Hiobsbotschaft zu überbringen ist, wäre es wohl besser, wenn jemand vorbeikommt, der mir bekannt ist. |
| Isados | Isados |
| 1. I am probably unknown to you, this is true, but things are not quite as you present them. | 1. Ich bin dir wohl unbekannt, das ist von Richtigkeit, doch es liegen die Dinge nicht ganz so, wie du sie darlegst. |
| 2. So that you know me, I'll explain to you that I am Isados, and that I have not brought you bad news as you stated earlier. | 2. So du mich kennen sollst, erkläre ich dir, dass ich Isados bin und dass ich dir keine Hiobsbotschaft zu überbringen habe, wie du vorhin erklärt hast. |
| 3. The point of my coming to you is opposite in nature to what you said, for my message will please you. | 3. Der Sinn meines Zudirkommens liegt in gegenteiliger Natur von dem, was du sagtest, denn meine Nachricht wird dich erfreuen. |
| 4. The past events around Semjase may have caused thoughts and feelings of concern in you, which is why you probably think in this form and talk to me like this. | 4. Die verflossenen Geschehen um Semjase dürften in dir Gedanken und Gefühle der Besorgnis hervorgerufen haben, weshalb du wohl in dieser Form denkst und so mit mir sprichst. |
| 5. This is understandable to me, and I therefore hold no grudge against you. | 5. Es ist mir dies verständlich und ich hege folglich keinen Groll gegen dich. |
| Billy | Billy |
| No bad news, you say? Man, do not fib; tell me outright, frankly and freely what happened, because I've known very well since Tuesday morning 2 o'clock in the morning. | Keine Hiobsbotschaft, sagst du? Mensch, schwindle doch nicht; sage frank und frei heraus, was geschehen ist, denn ich weiss schon seit Dienstag früh 2 Uhr bestens Bescheid. |
| Isados | Isados |
| 6. You speak very confused. | 6. Du sprichst sehr verwirrt. |
| Billy | Billy |
| Man, that's the meanest thing you could say. You know just as well as I do that the girl is no longer there because she already went to the realm of the other world last Monday. | Mann, das ist das Gemeinste, was du sagen konntest. Du weisst genau so gut wie ich, dass das Mädchen nicht mehr da ist, weil es den Jenseitsbereich bereits am letzten Montag aufgesucht hat. |
| Isados | Isados |
| 8. On what grounds do you state that? | 8. Mit welcher Begründung erklärst du das? |
| Billy | Billy |
| Do you actually assume that we humans on earth are still cave dwellers? I damned well know that Semjase is dead because I've tried to get to the bottom of things. It was just completely illogical to me that Quetzal came here from Erra, just to question me about the events surrounding Semjase. That was really very illogical, because if Quetzal would have instructed someone from the station to question me about what happened, then everything would have taken just under one hour until he would have known the answer. But instead, he took the trouble of making a seven-hour drive here, to dawdle away almost an hour with me, and finally to take a seven-hour flight to Erra again. This his behavior proves clearly and simply that Quetzal had completely lost his head and therefore acted illogically. But this could only be because he was depressed by extremely difficult worries and problems, with which he did not come clean. These worries and problems, however, which were also written in his face, for he was chalk-white from worry, he was not able to bring under control and to cope with, consequently he acted completely illogically about it. Thus I knew, that he probably had truthfully explained Semjase's state of health to me, however, in his very objective manner despite all his worries and problems, such that a wrong impression had to arise from it. But I did not let it deceive me, and I suddenly knew damn well that Quetzal was hiding something from me, namely, that it was very much more serious for the girl, as if he wanted to fool me with his self-imposed objectivity. I ... | Nimmst du eigentlich tatsächlich an, dass wir Erdenmenschen noch Höhlenbewohner seien? Ich weiss verdammt genau, dass Semjase tot ist, denn ich habe mich darum bemüht, den Dingen auf den Grund zu gehen. Es war mir einfach völlig unlogisch, dass Quetzal von Erra hierherkam, nur um mich nach den Vorfällen zu befragen, die sich um Semjase zutrugen. Das war wirklich sehr unlogisch, denn wenn Quetzal jemand von der Station beauftragt hätte, mich nach dem Geschehen zu befragen, dann hätte alles nur knapp eine Stunde gedauert, bis er Bescheid gewusst hätte. Statt dessen aber nahm er sich die Mühe, einen Sieben-Stunden-Weg hierher zu machen, fast eine Stunde mit mir zu vertrödeln und anschliessend wieder sieben Stunden Flug nach Erra auf sich zu nehmen. Diese seine Handlungsweise beweist klar und deutlich, dass Quetzal völlig den Kopf verloren hatte und folglich unlogisch handelte. Dies aber konnte nur darum sein, weil er äusserst schwer von Sorgen und Problemen bedrückt war, mit denen er nicht ins Reine kam. Diese Sorgen und Probleme aber, die ihm auch ins Gesicht geschrieben standen, denn er war kalkweiss vor Bekümmernis, vermochte er nicht unter Kontrolle zu bringen und zu bewältigen, folglich er daraus absolut unlogisch handelte. Dadurch wusste ich, dass er wohl das Befinden Semjase's wahrheitsgemäss mir dargelegt hatte, jedoch in seiner sehr sachlichen Art, trotz all seinen Sorgen und Problemen, dass daraus ein falscher Eindruck entstehen musste. Davon aber liess ich mich nicht täuschen und ich wusste plötzlich verdammt genau, dass mir Quetzal etwas verheimlichte, nämlich, dass es um das Mädchen sehr viel schlimmer stand, als er mir mit seiner sich selbst aufgezwungenen Sachlichkeit weismachen wollte. Ich ... |
| Isados | Isados |
| 9. He did not want to unnecessarily alarm you and to worry you, because... | 9. Er wollte dich nicht unnötig beunruhigen und nicht in Besorgnis stürzen, denn ... |
| Billy | Billy |
| I am talking now, man, don't interrupt me. You see, Quetzal's panicky behavior led me to send my spiritual consciousness on travels, which I did in the night from December 19 to 20, Monday to Tuesday, at 2:00 a.m.. What I saw almost shattered me, and at first I couldn't believe it at all. It took me many hours to finally accept what I saw, but this does not mean that I can understand it, because for me it is and remains incomprehensible. I saw Sem... | Jetzt bin ich am Reden, Mann, unterbrich mich nicht. Siehst du, dieses kopflose Benehmen Quetzals verleitete mich dazu, mein geistiges Bewusstsein auf Wanderschaft zu schicken, was ich tat in der Nacht vom 19. auf den 20. Dezember, also vom Montag auf den Dienstag, um 2.00 Uhr morgens. Das, was ich sah, zerschmetterte mich beinahe, und erst vermochte ich es überhaupt nicht zu fassen. Viele Stunden benötigte ich, um das Gesehene endlich zu akzeptieren, was aber nicht bedeutet, dass ich es verstehen kann, denn für mich ist und bleibt es unverständlich. Ich sah Sem... |
| Isados | Isados |
| 10. You are capable of spiritual consciousness travel? | 10. Du bist fähig der geistigen Bewusstseinswanderung? |
| Billy | Billy |
| What do you mean, by what means would I have otherwise seen everything? Perhaps by illusions and dreams? | Was meinst du denn, wodurch ich sonst alles gesehen hätte? Vielleicht durch Einbildungen und Träume? |
| Isados | Isados |
| 11. I did not know that you are capable of using of that power. | 11. Es war mir nicht bekannt, dass du der Nutzung dieser Kraft fähig bist. |
| Billy | Billy |
| Then you are misinformed. Nor are we earth humans all stupid and uneducated, like you probably erroneously imagine. | Dann bist du schlecht informiert. Auch sind wir Erdenmenschen nicht alle doof und ungebildet, wie du dir irrtümlich vermutlich vorstellst. |
| Isados | Isados |
| 12. I am too little informed about this, but I was not informed about this ability of yours. | 12. Diesbezüglich bin ich zu wenig informiert, doch bezüglich dieser deiner Fähigkeit war ich nicht unterrichtet. |
| 13. So tell me, what you have found during your travel. | 13. So erkläre mir, was du vorgefunden hast auf deiner Wanderung. |
| Billy | Billy |
| First I set off for Erra, where I ... | Erst setzte ich mich ab nach Erra, wo ich ... |
| Isados | Isados |
| 14. You were... - I must be informed more thoroughly about you. | 14. Du warst ... — ich muss mich genauer über dich informieren lassen. |
| 15. That gives me a whole new perspective regarding your person. | 15. Das ergibt für mich hinsichtlich deiner Person völlig neue Perspektiven. |
| Billy | Billy |
| Do you believe then, that you are dealing with the last monkey from the jungle? By the way, what are you always fiddling around with on your strange belt device? | Glaubtest du denn, dass du es mit dem letzten Affen aus dem Urwald zu tun hättest? Was nestelst du übrigens denn immer an deinem komischen Gürtelgerät herum? |
| Isados | Isados |
| 16. I was not sufficiently informed about you, which is why I imagined you to be very helpless and ignorant. | 16. Ich war über dich nicht genügend informiert, weshalb ich mir dich sehr hilflos und unwissend vorstellte. |
| 17. In this regard, I must greatly expand my meager knowledge of you and your capabilities and your knowledge. | 17. Diesbezüglich muss ich mein karges Wissen um dich und deine Fähigkeiten und um dein Wissen gehörig erweitern. |
| Billy | Billy |
| One can just be mistaken, my son. It also entirely appears to me as if you are not familiar with our conditions here. What are you fiddling around with again on your strange device? What does that thing show? | Man kann sich eben täuschen, mein Sohn. Es scheint mir auch ganz so, als ob du mit unseren Verhältnissen hier nicht vertraut bist. Was nestelst du denn schon wieder an deinem komischen Gerät herum? Was stellt das Ding dar? |
| Isados | Isados |
| 18. This device is a translator. | 18. Es handelt sich bei diesem Gerät um einen Translator. |
| 19. I need it because I do not understand your language. | 19. Ich benötige ihn, weil ich deine Sprache nicht verstehe. |
| 20. Also, I have never been here on this planet before, and therefore I am not acquainted with the prevailing conditions. | 20. Auch bin ich niemals zuvor hier auf diesem Planeten gewesen, und die hier herrschenden Verhältnisse kenne ich deshalb nicht. |
| Billy | Billy |
| Fine, at least now I know the answer. Now listen: I sent my spiritual consciousness to Erra and found a rather strange building there, that somehow magically attracted me. So I got into a room that appeared to me like a super modern operating theater. There were various containers that seemed to me to be glass coffins, but equiped with all possible and impossible devices and apparatuses. All but one were empty. But in the occupied one lay Semjase, completely unclothed and very obviously deep-frozen --- dead. Her head lay in a horse-shoe shaped, nontransparent apparatus, for which reason I could only see her face. She was actually completely lifeless, and her brain without any response. There was truly no doubt, and I cannot be deceived, because the spiritual consciousness can never be deceived in any form. But now you come here and dare to say that Semjase is well. How can you dare to make such an assertion? | Schön, nun weiss ich wenigstens Bescheid. Höre nun: Ich sandte mein geistiges Bewusstsein also nach Erra und fand dort ein recht eigenartiges Gebäude, das mich irgendwie magisch anzog. So drang ich denn ein, in einen Raum, der mir wie ein supermoderner Operationssaal erschien. Dort fanden sich verschiedene Behälter vor, die mir anmuteten wie Glasschreine, jedoch versehen mit allen möglichen und unmöglichen Geräten und Apparaturen. Bis auf einen Behälter waren alle leer. In dem besetzten aber, da lag Semjase, völlig entkleidet und ganz offensichtlich tiefgefroren — tot. Ihr Kopf lag in einem hufeisenförmigen, undurchsichtigen Apparat, weshalb ich nur ihr Gesicht genau zu sehen vermochte. Sie war tatsächlich völlig leblos, und ihr Gehirn ohne jegliche Reaktion. Es gab wahrhaftig keinen Zweifel, und einer Täuschung kann ich nicht oblegen sein, denn das geistige Bewusstsein lässt sich niemals und in keiner Form betrügen. Jetzt aber kommst du her und wagst zu behaupten, dass Semjase wohlauf sei. Wie kannst du es nur wagen, eine solche Behauptung aufzustellen? |
| Isados | Isados |
| 21. You convince me by the description of the room. | 21. Du überzeugst mich durch die Beschreibung des Raumes. |
| 22. It distresses me very much, that you have seen these things. | 22. Es betrübt mich sehr, dass du diese Belange gesehen hast. |
| 23. The time that followed up to now must have been very difficult for you. | 23. Die danach folgende Zeit bis jetzt muss sehr schwer für dich gewesen sein. |
| 24. Now I well understand your aggressive behavior towards me, which only comes from your very deep grief. | 24. Jetzt verstehe ich erst richtig dein aggressives Verhalten mir gegenüber, was nur aus deiner sehr tiefen Betrübnis resultiert. |
| 25. It saddens me that you had to take these very difficult hours and days on yourself, and this only because we paid too little attention to your feelings. | 25. Es betrübt mich, dass du diese für dich sehr schweren Stunden und Tage auf dich nehmen musstest, und dies nur darum, weil von unserer Seite aus deinen Gefühlen zu wenig Beachtung beigegeben wurde. |
| 26. If this had not happened, you would also have been very much better informed of the true situation. | 26. Wäre dies nämlich nicht geschehen, hätte man dich über den Stand der wahrlichen Belange auch sehr viel besser aufgeklärt. |
| 27. But obviously no one took into account that you, in deepest concern, would undertake a spiritual consciousness journey through space and time into our dimension in order to give you clarity. | 27. Offenbar aber rechnete niemand damit, dass du in tiefster Besorgnis eine geistige Bewusstseinswanderung durch Raum und Zeit in unsere Dimension unternehmen würdest, um dir Klarheit zu verschaffen. |
| 28. Rest assured that I did not come here to bring untruths to your attention, but rather to inform you of the current state of affairs. | 28. Sei jedoch getrost, denn ich kam nicht hierher, dir Unwahrheiten nahezubringen, sondern um dich über den gegenwärtigen Stand der Dinge zu informieren. |
| 29. Semjase is not lingering in the other world realm, as you say, but rather things are again going very well for her and ... | 29. Semjase verweilt nicht im Jenseitsbereich, wie du sagst, sondern es ergeht ihr wieder sehr gut und ... |
| Billy | Billy |
| I do not understand. Say that once again, I have probably heard wrongly? | Ich verstehe nicht. Sag das noch einmal, ich habe mich wohl verhört? |
| Isados | Isados |
| 30. Your understanding was very good. | 30. Dein Verstehen war sehr gut. |
| 31. Semjase is among us, and she is doing very well under all circumstances. | 31. Semjase ist unter uns, und es ergeht ihr allen Umständen entsprechend sehr gut. |
| Billy | Billy |
| Man, is that actually the truth? You make me … Man, if that is the truth. I am going crazy. | Mann, ist das tatsächlich die Wahrheit? Du machst mich ... Mann, wenn das die Wahrheit ist. Ich werde verrückt. |
| Isados | Isados |
| 32. It is the complete truth. | 32. Es ist die volle Wahrheit. |
| 33. Just listen: | 33. Doch höre: |
| 34. It is true, in every detail, what you have acquired in terms of knowledge through your spiritual consciousness journey | 34. Es ist von Richtigkeit, in jeder Einzelheit, was du durch deine geistige Bewusstseinswanderung an Wissen erlangt hast. |
| 35. Only the matters run somewhat differently than you suspected they would. | 35. Nur, es verhalten sich die Belange etwas anders, als du sie zu erkennen vermutet hast. |
| 36. It is true that Semjase was dead when you found her. | 36. Es ist die Wahrheit, dass Semjase tot war, als du sie fandest. |
| 37. Her brain was so severely injured that there was no more hope of any kind to save her life. | 37. Ihr Gehirn war dermassen stark verletzt, dass keinerlei Hoffnung mehr bestand, ihr Leben erhalten zu können. |
| 38. Also, our scientists were not able to help her because her physical presence was slowly showing signs of departing from this life. | 38. Hilfe vermochten ihr unsere Wissenschaftler auch nicht zu leisten, weshalb ihr physisches Dasein langsam vom Ableben gezeichnet wurde. |
| 39. Lingering in the deepest coma, she was only a few minutes from the point in time when her life would be irrevocably extinguished in the container that you found her in. | 39. In tiefstem Koma verweilend wurde sie daher nur wenige Minuten vor dem Zeitpunkt, da ihr Leben endgültig erloschen wäre, in jenen Behälter gelegt, in dem du sie vorgefunden hast. |
| 40. Through intravenous supplies of various substances her body was put into a stiff and deeply frozen state within a few fractions of a second, through which her physical life was instantly extinguished, although only for a predetermined time, during which her spirit form did not escape from her, because in this state of possible reawakening the latter adheres in a stagnant form to the organic locality assigned to it, namely in the brain area. | 40. Durch intravenöse Zufuhren verschiedener Stoffe wurde ihr Körper in wenigen Sekundenbruchteilen in einen starren und tiefgekühlten Zustand versetzt, wodurch ihr physisches Leben augenblicklich erlosch, jedoch nur für eine vorbestimmte Zeit, während der ihre Geistform nicht aus ihr entwich, denn dieselbe hält sich in diesem Zustand der Wiedererweckungsmöglichkeit in stagnativer Form an ihrer ihr zugewiesenen organischen Örtlichkeit fest, so nämlich im Gehirnbereich. |
| 41. Only after the resuscitation of the body does it automatically stop its stagnation and push itself back to activity. | 41. Erst nach der Wiederbelebung des Körpers legt er automatisch seine Stagnation ab und drängt sich selbst wieder zur Aktivität. |
| 42. While Semjase was being prepared for a later resuscitation, her father Ptaah tried to get help for her by Asket in the DAL Universe, whom you of course should know. | 42. Während so Semjase für eine spätere Wiederbelebung vorbereitet war, bemühte sich ihr Vater Ptaah im DAL-Universum bei Asket, die du ja kennen sollst, um Hilfe für sie. |
| 43. But those people in the other universe were not able to give this kind of help either, consequently Asket searched for help among an approximately 4000-year more advanced race of human life forms in her universe, which she actually found and obtained. | 43. Diese Hilfe aber vermochte auch nicht jenes Volk im anderen Universum zu geben, weshalb Asket bei einer um 4000 Jahre höherentwickelten menschlichen Lebensformrasse in ihrem Universum Hilfe suchte, die sie da auch tatsächlich fand und erhalten hat. |
| 44. Consequently, several scientists from there came to Erra and attended to Semjase. | 44. Folglich kamen von dort mehrere Wissenschaftler nach Erra und nahmen sich Semjase's an. |
| 45. In a lengthy process, the destroyed brain parts were removed from Semjase, the frozen brain acids were inserted into artificially generated plasmaprotonal new brain parts and directly reattached to the brain, after which a rapid healing process allowed the artificial and natural plasmas to grow together and the skull could be closed again, which was then also regenerated by a rapid process. | 45. In langwieriger Arbeit wurden die zerstörten Gehirnteile von Semjase entfernt, die gefrorenen Gehirnsäuren in künstlich erzeugte plasmaprotonale neue Gehirnteile eingefügt und direkt wieder mit dem Gehirn verbunden, wonach ein Schnellheilungsprozess die künstlichen und natürlichen Plasmen ineinanderverwachsen liess und die Schädeldecke wieder verschlossen werden konnte, die dann ebenfalls durch einen schnellen Prozess regeneriert wurde. |
| 46. As as result of this, everything became as before, and there is nothing more that points to those things which these various events obscured. | 46. Dadurch wurde alles wie zuvor und nichts weist jemals mehr darauf hin, dass diese Geschehnisse vielerlei trübten. |
| 47. Semjase will have no memory of it, not even of the 42 hours she was dead. | 47. Semjase wird keine Erinnerung daran haben, auch nicht an die Dauer von 42 Stunden, da sie tot war. |
| 48. Her knowledge only begins when she woke up after the intervention, but also there where, according to the statements you gave to Quetzal, she fell to the floor. | 48. Ihr Wissen setzt erst dort wieder ein, als sie erwacht ist nach dem Eingriff, so aber auch dort, wo sie nach deinen Quetzal gegebenen Angaben gemäss zu Boden stürzte. |
| 49. Everything will be just like before, her knowledge and perhaps also all abilities will be the same, and perhaps she will have neither handicaps nor losses. | 49. Alles wird sein wie eh und je, ihr Wissen und vielleicht auch alles Können werden dasselbe sein, und sie wird vielleicht weder Nachteile noch irgendwelche Einbussen haben. |
| 50. Only the time and events between the beginning of her coma and her reawakening will not be familiar to her. | 50. Einzig die Zeit und die Geschehen zwischen dem Beginn ihres Komas und ihrem Wiedererwachen wird ihr nicht geläufig sein. |
| 51. Regrettably it will nevertheless be, that she is not allowed to exert herself in the near future, which under the circumstances will last several months, for which reason she also cannot come to the earth. | 51. Bedauerlicherweise wird es jedoch so sein, dass sie in der nächsten Zeit keinerlei Anstrengungen auf sich nehmen darf, weshalb sie auch nicht zur Erde kommen kann, was unter Umständen mehrere Monate in Anspruch nimmt. |
| 52. Also this action was only taken on her, because she was trained for special and very long-term tasks, and has not yet even a third of her life behind her. | 52. Auch wurde diese Handlung an ihr nur vorgenommen, weil sie für spezielle und sehr langzeitige Aufgaben ausgebildet ist und noch nicht ganz ein Drittel ihres Lebens hinter sich hat. |
| 53. A new training and preparation for her task would take up too much time, besides deficiencies would appear that could not be eliminated because only Semjase has stored these specific matters in her knowledge. | 53. Eine Neuausbildung und Vorbereitung für ihre Aufgabe würde zu viel Zeit in Anspruch nehmen, ausserdem würden dabei auch Mängel in Erscheinung treten, die nicht behoben werden könnten, weil nur Semjase diese bestimmten Belange in ihrem Wissen gespeichert hat. |
| 54. Console yourself now with the fact that she is alive and that you will see her again without any change. | 54. Tröste dich nun damit, dass sie lebt und dass du sie wieder sehen wirst, ohne irgendwelche Änderung und Veränderung. |
| 55. For the time being she requires extreme tranquility, for which reason you should not press her for a reunion. | 55. Vorerst allerdings bedarf sie äusserster Ruhe, weshalb du nicht nach einem Wiedersehen mit ihr drängen solltest. |
| Billy | Billy |
| Man, I will not do that. I'm already relieved, happy and pleased that everything is alright again. Even if she may not come for many months, as you say, that does not change anything. The main thing is that she is there and lives. Man, you bring me news, that's amazing. Man, that's so wonderful. Tell her my best regards and assure her ... | Mann, das tue ich doch nicht. Ich bin schon froh, glücklich und zufrieden, dass alles wieder in Ordnung ist. Auch wenn sie vielleicht viele Monate nicht mehr herkommt, wie du sagst, dann ändert das doch nichts. Hauptsache ist doch, dass sie da ist und lebt. Mann, du bringst mir Nachrichten, das ist sagenhaft. Mensch, das ist so wunderbar. Sag ihr meine lieben Grüsse und versichere ihr ... |
| Isados | Isados |
| 56. I have saved everything, hence your voice will be heard. | 56. Ich habe alles gespeichert, folglich sie deine Stimme hören wird. |
| Billy | Billy |
| Man, man, you are good, you are doing great. Give my best regards would you, but also from all our group members, who were also very worried about her. What do you think, about how they'll all be happy about this fantastic good news. I will write a long letter to Semjase. Man ... | Mensch, Mann, du bist gut, das machst du prima. Grüsse sie sehr lieb von mir, so aber auch von allen unseren Gruppemitgliedern, die sich ebenfalls sehr um sie gesorgt haben. Was meinst du, wie die sich alle riesig freuen werden über diese phantastisch gute Nachricht. Ich werde Semjase einen langen Brief schreiben. Mann ... |
| Isados | Isados |
| 57. You are overwhelmed, it is probably better if I go now. | 57. Du bist überwältigt, es ist wohl besser, wenn ich jetzt gehe. |
| Billy | Billy |
| Do that, I have to tell the others as soon as possible. Good-bye. | Mach das, ich muss es so schnell wie möglich den andern sagen. Auf Wiedersehn. |
| Isados | Isados |
| 58. You are very strange in your feelings. | 58. Ihr seid sehr eigenartig in euren Gefühlen. |
| 59. You give free rein to your feelings so openly. | 59. Ihr lasst euren Gefühlen so offen freien Lauf. |
| 60. It is to me ... | 60. Es ist mir ... |
Further Reading
Sources
Directly entered from a copy of the original book: Plejadisch-Plejarische Kontaktberichte Block
The German was formatted for the website using a series of scripts; it has not all been checked thoroughly for consistency however should all be there.
References