Contact Report 084
IMPORTANT NOTE
This is an unofficial and unauthorised translation of a FIGU publication.
Introduction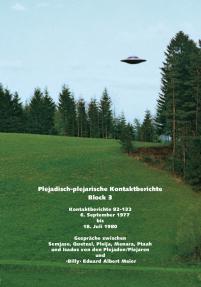 Page number(s): Pages 7-8 (Vierundachtzigster Kontakt)
(Gedankenübermittlungskontakt)
Date/time of contact: 11th September, 1977, 3:48 AM
Translator(s): TBA
Date of original translation: TBC
Corrections and improvements made: N/A
Contact person: Semjase
Synopsis
Please write a synopsis
This is an excerpt of the contact.

Contact Report 84 Translation
| | |
| --- | --- |
| English | German |
| not translated | Vierundachtzigster Kontakt |
| | Sonntag, 11. September 1977, 3.48 Uhr |
| | (Gedankenübermittlungskontakt) |
| Semjase | Semjase |
| 1. Please help translate into English | 1. Du hast sehr tief geschlafen, weshalb ich einige Mühe hatte, dich zu rufen. |
| 2. | 2. Es muss aber sein, denn ich habe dir im Bezuge auf die Belange um Herrn Glanzmann einige wichtige Vorkommnisse mitzuteilen: |
| 3. | 3. Wie ich dir zugesagt habe, bemühte ich mich um die Abklärung der Geschehen, die in ihrer Form äusserst aussergewöhnlich sind und ein sehr böses Resultat zeitigten. |
| 4. | 4. In erster Linie bemühte ich mich in derselben Form um die Belange, wie du dies selbst von dir aus unternommen hast. |
| 5. | 5. Obwohl ich dabei durch deine gestrigen Erklärungen auf alles vorbereitet war, traf es mich äusserst schwer. |
| 6. | 6. Ich hatte dabei sehr schwere Mühe, den plötzlich auf mich eindringenden Kräften Herrin zu werden, denn sie trafen mich mit einer derart unwahrscheinlichen Kraft, dass ich über mehrere Minuten hinweg ohne Besinnung war. |
| 7. Only the fact that Pleija, whom I had won for the experiment and who supervised everything with the technical equipment, intervened apparently, when I became unconscious and hurled back the penetrating forces, which saved me from losing this life. | 7. Nur der Umstand, dass Pleija, die ich für den Versuch gewonnen hatte und die mit technischen Geräten alles überwachte, sich apparaturell beim Eintreten meiner Besinnungslosigkeit einschaltete und die eindringenden Kräfte zurückschleuderte, bewahrte mich davor, dieses Lebens verlustig zu gehen. |
| 8. | 8. Es ist mir nach diesem Vorfall völlig rätselhaft, dass du den auf dich gerichteten wahnwitzigen Anschlag überlebt hast, denn nach den mir nun bekannten Tatsachen ergeben meine Berechnungen, dass du den Angriff auf dein Leben nicht überleben konntest. |
| 9. | 9. Welche Umstände dies aber verhütet haben, kann ich mir nicht erklären. |
| 10. | 10. Gerne hätte ich nun für die Abklärung der Belange Quetzal um Hilfe ersucht, doch ist er für einige Tage abwesend, weshalb ich Vater um Rat angegangen bin, so er in den nächsten Tagen hierher kommt, um den ungeheuren Dingen auf den Grund zu gehen. |
| 11. | 11. Bis dahin unternimm bitte in keiner Weise etwas, denn ich könnte dir in keiner Form Hilfe bringen, weil ich nicht machtvoll genug bin, diese mir unbekannten Kräfte zu beherrschen, bei denen es sich tatsächlich um eine sehr hohe Konzentrativform von mehreren Millionen Einheiten handeln muss. |
| 12. | 12. Selbst als ich einen neuerlichen Versuch zur Klärung der Belange unternahm, diesmal auf rein technischer Basis, war dieser zum totalen Scheitern verurteilt. |
| 13. | 13. So auch zwei weitere technische Versuche. |
| 14. | 14. Die Analysatoren funktionierten so lange, bis die Suchstrahler auf die ungeheure Konzentrativenergie prallten. |
| 15. | 15. Dann ging alles sehr schnell: |
| 16. | 16. Die Suchstrahler wurden tatsächlich in Sekundenbruchteilen verzehrt, gerade so, wie wenn sie der auf sie eindringenden Kraft als Nahrung gedient hätten. |
| 17. | 17. Dann war plötzlich diese gewaltige Kraft mitten in der Apparaturenzentrale des Analysators und frass sich in das eigentliche Herz hinein, nämlich in den Sensorenbereich. |
| 18. | 18. Mit berstenden Geräuschen zerrissen die Sensoren von innen her, wodurch auch die ganze Apparatur zerstört wurde. |
| 19. | 19. Gedulde dich nun bis zum Erscheinen meines Vaters, denn bis spätestens am Mittwoch will er hier sein, um sich der Abklärung dieser sehr geheimnisvollen Dinge zu widmen. |
Further Reading
Sources
Directly enterered from a copy of the original book: Plejadisch-Plejarische Kontaktberichte Block
The German was formatted for the website using a series of scripts; it has not all been checked thoroughly for consistency however should all be there.
References